Comprehensive Dock Repair and Maintenance Services in Oakland County, Michigan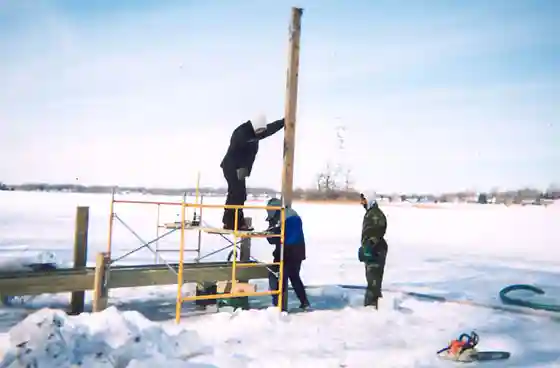 We Are Your Dock Repair Experts With Over 35 Years of Experience!
Call Now!
At H.Y.O. Services, we understand that maintaining the integrity and functionality of your dock is essential for a safe and enjoyable waterfront experience. That's why we offer comprehensive dock repair and maintenance services in Oakland County, Michigan. With our expertise and commitment to excellence, we ensure that your dock remains in optimal condition year after year.
Dock Repair
If your dock is showing signs of wear and tear, damage from storms, ice, or general deterioration, our skilled technicians are here to provide prompt and reliable repair solutions. We conduct a thorough assessment of your dock to identify any issues, and our experienced team utilizes industry-leading techniques and high-quality materials to perform the necessary repairs. From fixing structural damage to replacing worn-out components, we are equipped to handle a wide range of dock repair needs, ensuring that your dock is safe, sturdy, and functional.
Dock Maintenance
Proper maintenance is key to extending the lifespan of your dock and avoiding costly repairs down the line. H.Y.O. Services offers comprehensive dock maintenance services designed to keep your structure in optimal condition. Our team will work closely with you to develop a tailored maintenance plan that suits your specific dock type, usage, and environmental factors. Regular inspections, cleaning, and upkeep will help identify potential issues early on, ensuring that your dock remains in excellent shape for years to come.
With H.Y.O. Services, you can trust that your dock repair and maintenance needs are in capable hands. Our skilled technicians have the expertise and knowledge to handle docks of all sizes and configurations. We are dedicated to delivering exceptional service, using top-quality materials and adhering to the highest industry standards.
Why Choose Us?
Choose H.Y.O. Services for reliable dock repair and maintenance services in Oakland County, Michigan. Contact us today to discuss your dock needs, and let our experts keep your dock in excellent condition, providing you with a safe and beautiful waterfront experience. Trust us to deliver outstanding results that exceed your expectations. H.Y.O. Services always offers free estimates and we are fully insured.
H.Y.O. Services also offers Dock Installation and Dock Removal!
Examples of Our Dock Repair and Maintenance Service
​Removable and permanent dock repair and maintenance: H.Y.O. Services installs, removes, repairs and custom builds
docks
of all sizes, styles and applications. Local retailers of marine equipment recommend H.Y.O. Services for the installation of the products they sell including boat lifts, rafts, and boat docks.