We Provide Boat Lift Installation, Removal, Relocation Services
We Have Over 35 Years of Experience In Boat Lift Services!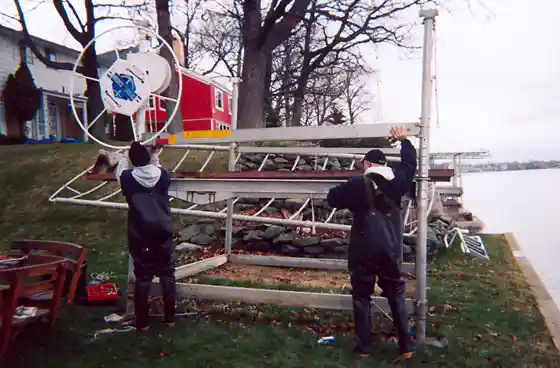 Premier Boat Lift Installation, Removal, & Relocation Services in Oakland County, Michigan
Call Now!
About Our Boat Lift Services
When it comes to boat lifts, H.Y.O. Services is your trusted partner in Oakland County, Michigan. We specialize in the installation, removal, and relocation of boat lifts, with expertise in the renowned "Shore Station" brand. With our comprehensive range of services, we ensure that your boat lift operates smoothly, providing convenient and reliable watercraft storage.
Boat Lift Installation:
Our skilled technicians are experienced in installing boat lifts of all sizes and configurations. Whether you're a waterfront homeowner or a commercial marina, we have the knowledge and resources to handle your installation needs. We specialize in "Shore Station" boat lifts, known for their durability and advanced design. With meticulous attention to detail, we ensure that your boat lift is properly installed, providing secure and convenient docking for your watercraft.
Boat Lift Removal:
When it's time to remove your boat lift, trust the professionals at H.Y.O. Services to handle the task with precision and care. We understand the importance of careful removal to avoid any damage to your lift or surrounding structures. Our team follows industry best practices to safely dismantle and remove your boat lift, leaving your waterfront area clean and ready for the next season or project.
Boat Lift Relocation:
If you're moving from one lake to another or even from one city to another, we have the expertise to handle boat lift relocations. Our team is skilled in disassembling, transporting, and reassembling boat lifts, ensuring that they are reinstalled correctly in their new location. We understand the unique challenges that come with boat lift relocations and have the necessary equipment and experience to handle the process seamlessly.
Why Choose Us?
At H.Y.O. Services, we are dedicated to providing exceptional boat lift services with a focus on customer satisfaction. Our expertise in "Shore Station" boat lifts sets us apart, ensuring that you receive a reliable and top-quality solution. Trust our team of professionals to deliver outstanding results and handle your boat lift needs with efficiency and precision.
Contact H.Y.O. Services today to discuss your boat lift installation, removal, or relocation project in Oakland County, Michigan. Let our "Shore Station" specialists provide you with reliable and convenient boat lift solutions that enhance your waterfront experience. H.Y.O. Services always offers free estimates and we are fully insured.
Examples of Our Boat Lift Service
H.Y.O. Services assembles and installs new boat lifts of all makes and models and we specialize in Shore Station. We can move boat lifts from lake to lake and city to city. Moving? Want to take your dock and lift with you? No Problem!