Efficient and Reliable Seasonal Dock Removal Services in Oakland County, Michigan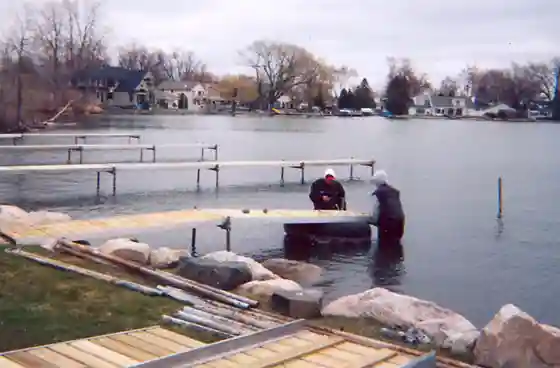 We've Been Providing Dock Removal Services for Over 35 years!
Call Now!
When the time comes to remove your seasonal dock, trust the experts at H.Y.O. Services to handle the task with utmost care and efficiency. As a leading provider of boat dock services in Oakland County, Michigan, we understand the importance of seamless and hassle-free dock removal. Our dedicated team is well-equipped and experienced in safely dismantling and removing temporary docks of various sizes and configurations.
Your Satisfaction is Our Priority
At H.Y.O. Services, we prioritize customer satisfaction and take pride in our ability to deliver exceptional service from start to finish. When you choose us for your seasonal dock removal needs, you can expect a smooth and professional process. Our skilled technicians will carefully assess your dock and develop a customized removal plan tailored to your specific requirements.
Fast, Efficient, and Competent Service
We have the necessary equipment and expertise to dismantle your seasonal dock without causing any damage to the surrounding environment or structures. Our team follows industry best practices and safety protocols to ensure a seamless removal process. We understand that your time is valuable, so we work diligently to complete the removal efficiently, minimizing any disruptions to your waterfront activities.
With H.Y.O. Services, you can trust that your seasonal dock removal will be handled responsibly and with the utmost professionalism. We are committed to leaving your waterfront area clean and tidy, without any trace of the previously installed dock.
Why Choose Us?
Choose H.Y.O. Services for reliable and efficient seasonal dock removal in Oakland County, Michigan. Contact us today to discuss your dock removal project, and let our experts take care of the entire process for you. We are dedicated to exceeding your expectations and providing a hassle-free experience, ensuring your waterfront area is ready for its next transformation. H.Y.O. Services always offers free estimates and we are fully insured.
H.Y.O. Services also offers Dock Installation and Dock Repair!
Examples of our Seasonal Dock Removal Service
Seasonal dock removal services: H.Y.O. Services removes, repairs and custom builds removable
docks
of all sizes, styles and applications. Local retailers of marine equipment recommend H.Y.O. Services for the installation of the removable dock products they sell.