Expert Deck Staining Services in Oakland County, Michigan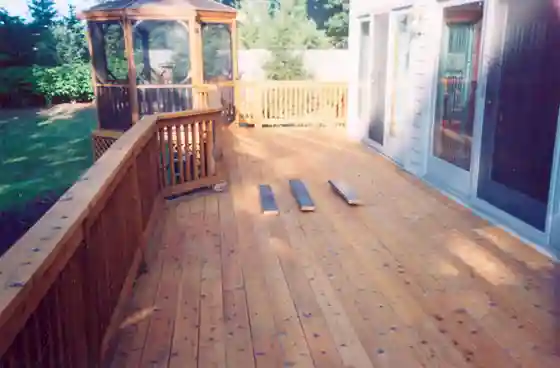 We Have Over 35 Years Experience in Deck Staining Services
Call Now!
At H.Y.O. Services, we understand that a well-stained deck can make a huge difference in the appearance and value of your home. That's why we offer high-quality deck staining services to homeowners in Oakland County, Michigan. With over 35 years of experience in the industry, we have the knowledge, expertise, and tools to deliver exceptional results that will exceed your expectations.
Our deck staining process is designed to enhance the natural beauty of your wood while also protecting it from the harsh elements of the Michigan climate. We use only the best products and materials in the industry, ensuring that your deck not only looks great but also lasts for years to come. We also offer a wide range of stain colors and finishes to choose from, so you can customize your deck to match your personal style and preferences.
Free Estimates - Prompt Service
At H.Y.O. Services, we believe that a job well done starts with excellent communication. That's why we take the time to understand your needs and preferences, and we'll work closely with you throughout the entire staining process. We'll provide you with a free estimate, so you can have an accurate idea of the cost of your project upfront. We also prioritize prompt service, so you can start enjoying your newly stained deck as soon as possible.
We're Insured, You're Protected
We take great pride in providing high-quality staining services at fair prices. Our team is fully insured, so you can have peace of mind knowing that you're protected. Whether you need to restore an old deck, or simply want to give your current one a fresh new look, we're here to help. Contact us today to schedule your free estimate and experience the difference that our expertise and commitment to quality can make for your home.
At H.Y.O. Services, we're passionate about helping homeowners in Oakland County, Michigan, create the deck of their dreams. Contact us today to get started on your deck staining project!
Examples of our Deck Staining Service
​
Decks
before, during and after: This deck was washed and sealed or stripped and totally restored back to natural.