Expert Deck Restoration Services in Oakland County, Michigan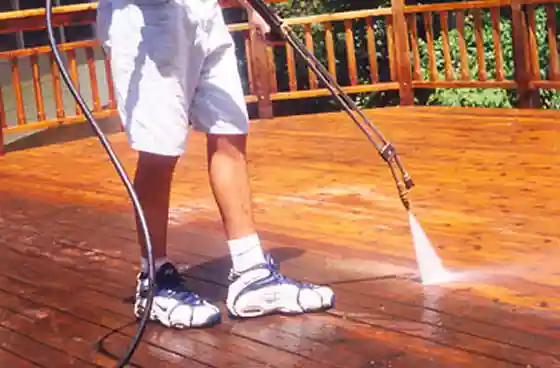 We Have Over 35 Years Experience in Deck Restoration Services
Call Now!
If you own a residential property in Oakland County, MI, your outdoor deck can be a wonderful way to take in the great outdoors throughout the year. We are lucky to live in a place that has so many beautiful seasons. However, some of these more intense weather conditions can lead to damage. If your deck has seen better days, the team at H.Y.O. Services is here to help. With our deck restoration services, you can have new life brought back to your beautiful deck so that your yard can be more fully appreciated. We understand how to take your deck to a whole new level so that it can last many years to come.
Power-Washing
Over time, decks can accumulate dirt, grime, and other debris that can detract from their appearance and compromise their structural integrity. Our power-washing service is a quick and effective way to remove dirt and grime, revealing the beautiful natural wood underneath. We then follow up with our deck restoration service, which includes staining and sealing as needed.
Expert Skill Means High-Quality
With a quality deck restortation service from H.Y.O. Services, you can rest assured that your restored deck's new luster will last. We use only the highest quality of tools, materials, and skills to ensure your newly restored deck will match your home's aesthetics. We understand that every home is different and comes with its own unique personality. We offer you the best deck restoration services around.
Affordable, Flexible, Insured
With our affordable prices and flexible scheduling, you won't have to compromise the quality of your deck services for the price. We can come to your home at a time that best works for your busy schedule so that your new deck can be ready for use as soon as possible. We can also provide you with liability insurance certification upon request.
Our team of experienced deck repair specialists can put your mind at ease with our personalized deck restoration services. So reach out to H.Y.O. Services today to learn more about our 35 years of service and how our deck restoration specialists will restore your deck. Give us a call today at (248) 683-5080.
H.Y.O. Services also does Deck Staining and Deck Rebuilding!
Examples of our Deck Restoration Service
​
Decks
before, during and after: This deck was washed and sealed or stripped and totally restored back to natural.