Expert Deck Rebuilding Services in Oakland County, Michigan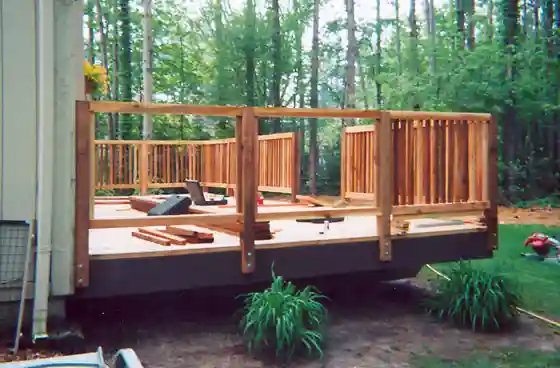 We Have Over 35 Years Experience in Deck Rebuilding Services
Call Now!
​Do you have a deck that has seen better days? If you want a deck that is safe, stable, and aesthetically pleasing, turn to H.Y.O. Services for quality deck rebuilding in Oakland County, MI. We can restore your deck to its formal prominence.
What Do We Do?
We rebuild your deck from the frame up. That means completely new materials. Whether you're tired of your current deck's look or it simply is too unsafe to use anymore, deck rebuilding can help.
We will consult with you on what you want your rebuilt deck to look like, gather the necessary materials, take down your old deck, and install a new and improved deck in the same spot. You can enjoy a deck that will last for years to come.
Why Get a Rebuilt Deck?
Why start over new? A deck is an expression of yourself, so rebuilding your deck allows you to expand on or revamp what your current deck offers. You might want to change the shape, size, or style, so allow us to achieve that for you.
​Additionally, if your current deck has problems with structural safety or simply looks too unsightly to salvage, a new deck will provide the beautiful look you want.
How Can We Help?
We have years of experience in deck rebuilding services. Our insured workers will safely and successfully rebuild your deck and be happy to answer any questions you have. We are happy to provide free estimates before we begin work.
How Can You Get Started?
Eager to learn more? Call us today at (248) 683-5080. Whatever you want to achieve with a rebuilt deck, let H.Y.O. help. We are here to assist with every step of the process.
Examples of our Deck Rebuilding Service
Re-deck / re-build new rails: H.Y.O. Services does complete "re-deck" and railing repair / replacement. These pictures show a
Deck
job in Commerce Township that was torn down all the way to the frame and re-decked, re-railed in cedar.